According to Spielvogel, Leonardo da Vinci was one of the greatest Italian Renaissance artists, which was once explained that a painter will create paintings of small merit if he shall use the work of other as a stand; but if he will study from natural objects, he shall bear good fruit, especially for those who shall use nature as their standard. This was the philosophy followed by da Vinci in the preparation of his paintings. As a renaissance artist, he considered the imitation of nature as his primordial goal. This has given rise to naturalism as he tried to persuade onlookers to see beyond the reality of the object that he is portraying; while at the same time, incorporating new standards, the depicts a new attitude mind as well by putting an emphasis on the human beings as the center and measure of all things.
During the early Renaissance, da Vinci, together with his companions, maintained that it was Giotto who came from the 14th century, who first initiated the imitation of nature. This means that people who observed art became a world of reality that is presented to be a continuation of their own world. In fact, Western civilization changed organically, just as how the body's form, structure and physiology change proportionally as it continues to develop.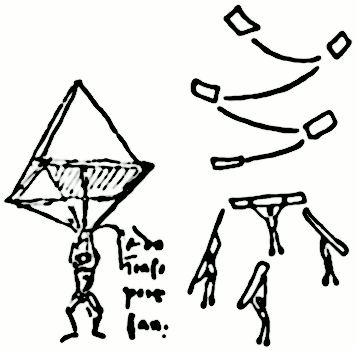 Leonardo da Vinci is known as a genius during his time and a man of inspired distraction. He was famous for being a man who had a reputation for not being able to accomplish things, but his ingenuity and uniqueness in the fields of arts and sciences has created a legacy that lasted for centuries. Though he may not have produced as much paintings as his contemporaries, he earned more by painting the fresco of the "Battle of Anghiari", known as the Florentine victory. At the same, da Vinci was also distracted by a flight of birds, which led him to draw expansive notes on avian aeronautics, which made him discover human flight. He further explored the idea that a bird is a machine that can be operated by the use of mathematical law, and man has the knowledge and ability to duplicate a flying machine. Though this invention was unsuccessful, he focused his attention in creating several of his master pieces such as the "Battle of Anghiari", the "Last Supper" and the renowned "Mona Lisa". Even though da Vinci's early beginnings was identified with delays, he still managed to become a legacy that will live on forever. At 16 years of age, he was an engineer, creator of theatrical extravaganzas, designer of war machines and an occasional painter. In history, he is being given credit as the greatest Italian painter, sculptor and architect and whose brilliance and wisdom was beyond compare during the Renaissance. The famous work of art Mona Lisa had given him universal fame, along with the Last Supper. Later on his life, he became an excellent inventor, mathematician, engineer, naturalist and anatomist. In the field of anatomy, he discovered how the human body functions by dissecting more than 30 corpses. Edgar has reported that due to da Vinci's imagination and innate skills, he was able to create moulds of organs such as the heart, the lungs and the womb of a mother.
Another innovation that was introduced by da Vinci is the spatial considerations of taxonomy, which are comparable to modern, double-entry bookkeeping that has been codified during the Renaissance period. The double entry bookkeeping has transformed the confusing volume of data that is related to exchange of goods, while separating and classifying it on the basis of profits, losses, income and expenses, assets and liabilities. On the part of Da Vinci, he assisted in illustrating and including the very first definitive writing on double-entry bookkeeping.
Nash adds that the overlap between art and technology was also expressed by da Vinci during the period 1452 to 1519 as the brilliant man of Renaissance, who both excelled in the two fields. He made important observations in mechanics and optics, by developing designs for various mechanical devices and has resolved issues on military engineering. Da Vinci has conceptualized that the paintings reflected divine creation to the highest degree possible, negating the principle of servility. According to Noble, Strauss, Osheim et al., da Vinci is famous about his plans, which were sometimes prophetic which consisted of bridges, fortresses, submarines and airships. This clearly shows how da Vinci has contributed in the field of engineering and is still up to this day continuously developing, owing to the exceptional knwledge that this man has established. In the field of painting, he left a signature mark in one of the painting technique that he developed known as "Chiaoscuro", which makes use of a combination of light and dark in pictorial representation that presented aerial perspectives.
The lines of his paintings also has shown horizons as muted, shaded zones, rather than with sharp lines, which has given inspiration to several modern day painters who followed the techniques of da Vinci. His analytical observations served as the utmost encouragement among his contemporaries. As a scientist, he was unique in such a way that he overruled those arguments and ideas based on the boundaries set by the ancients. But rather, he expressed his advocacy for the study of the natural world. This is one of the worthwhile contributions of da Vinci that changed the course of Western Civilization.
Despite his lack of education and having been raised in a village that was outside of Florence, he was able to prove to the world that he can rise above the rest amidst all adversities in life. His indifference from the humanistic milieu from the city was able to set a legacy through his artistry which was comparable to his formerly schooled superiors. During one of his personal writings in his journal, he admitted that he is fully aware that though he was not a literary man, because some people consider him unworthy of recognition pointing to the reality that he is not a man of letters. However, da Vinci was brave enough to defend his inadequacy for classical education by arguing that all the best writing, just like invention is purely based on the close observation of nature. This, da Vinci's practicality, sensibility and reasonableness has earned him a mark in history that no other schooled contemporary can surpass.
In addition, according to Jackson, Leonardo also participated in the field of psychological and psychoanalytical etiology of male homosexuality through the study of Freud's theory on male homosexuality.
There is a passage in the work of Leonardo in which Sigmund Freud reinforces the repetitive history of the normative heterosexual male and the failure to conform to Oedipal orthodoxy. Da Vinci was able to evaluate the imbalance binaries of science and art through his scientific investigation, which is regarded as a more mature sublimation, which is more in keeping with the principle of reality, than the earlier sublimation of scopophilia in his art works. In fact, Freud lauds the artistic work of da Vinci as more "homosexual" than his scientific curiosity since his scientific thinking became a big contribution in the cultivation of Western civilization, whose sophistication has far exceeded his own time. Freud has labeled da Vinci's scientific research as a sublime accomplishment and far greater than the prestige brought about by the works of art. The career of da Vinci is magnified by his intellectual prowess, while humanity succumbed to the attraction of a great and mysterious man who has contributed in the development of the Western civilization.
Therefore, it is undeniable that significant role Leonardo da Vinci during the period of High Renaissance Art has influenced Western civilization. Da Vinci, despite his lack of classical education was able to prove to the world that greatness cannot be measured by literary compositions, but rather, the supreme invention can be made through close observation of nature.
References
Byfield, Ted. Renaissance, God in Man. Canada: Mc Callum Printing Group, 2010.
Jackson, Earl. Strategies in Deviance: Studies in Gay Male Representation. USA: Indiana University Press, 1995.
Noble, Thomas, Strauss, Barry, Osheim, Duane et al. Western Civilization, Beyond Boundaries, 1300-1815. California: Cengage, 2010.
Rosenberg, Gary. The Revolution in Geology from Renaissance to the Enlightenment.Colorado: Geological Science of America, 2009.
Spielvogel, Jackson. Western Civilization. Boston, MA: Cengage, 2012.
Thorpe, Edgar.The Pearson Guide to LLB Entrance Exams. India: Pearson Education, 2008.